Plant Care and Merchandising
We invest in relationships at every level!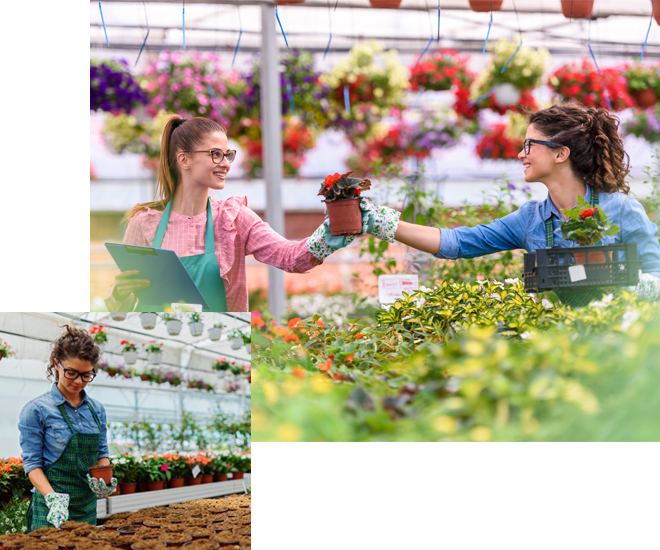 Exceptional Customer Service and Plant Care
Our mission is to provide exceptional customer service and plant care so that we can bring joy to people's homes and contribute to our customer's overall wellbeing through live plants and gardening.
Number of Retail Locations Serviced


Number of Cities and Towns We Service

Number of Plants Cared for Last Year


Partnership
We work hard for the plants and people in our lives and aim to provide an unmatched customer experience for both our plants and clients. 

Strategic Merchandising
We blend our love of plants and strategic merchandising skillset to create an easy and enjoyable shopping experience for your customers.

Expert Plant Care
We are plant people at heart and have years of experience and education that helps us provide excellent plant care.

I enjoy working for GMS because of the work life balance. Plus what's better than working outside on the beautiful Spring/Summer days. I thoroughly enjoy creating beautiful, strategic displays and passing that knowledge on to my team. 

Casey Flynn
Merchandising Regional Manager

I love working for Grower Merchandising Service because it allows me to do the things in life I find fulfilling. I am someone who likes helping others and enjoys the beauty in nature. Through this company I get to have both. With a healthy balance, it's easy to be happy. 

Christina Sims
Merchandising Regional Manager

I appreciate working for GMS being able to work outdoors with plants.   I'm inspired by my team, and their dedication each season. Sunshine, honest work and supporting our Wal-Mart partners.

Danielle Jackson
Merchandising Regional Manager

Working for Grower Merchandising Service has given me the opportunity to work alongside an amazing group of incredible, smart, talented, and very fun people. Our hardworking crew respect each other and are always looking for ways to lift each other up. I couldn't ask for better people to be surrounded by! 

Jennifer Smith
Merchandising Regional Manager

Being part of the GMS team is a very rewarding place to be. Everyone from the greenhouse, GMS management and merchandisers to the store management and associates, we are a true team of people who bring the stores alive with beauty. It is hard work, but it is such a joy to get to play with plants all day!

Linda Rhodes
Merchandising Regional Manager

I enjoy working for Grower Merchandising Service because plant people are happy people! Whether it is our hard working merchandisers or customers looking for just the right plant, the atmosphere in our garden centers is always upbeat and fun!

Nena Melvin
Merchandising Regional Manager
I love working for Grower Merchandising Service because of the people.  The merchandisers, managers, and supporting staff are friendly, helpful, and genuinely care.  They are the reason I choose GMS as my career. 


Rachael Vallese
Merchandising Operations Manager

I enjoy working for GMS for quite a few reasons. I love working with the flowers making gorgeous displays, being mostly outdoors, the flexibility and some of the great friends I've met along the way.

Robin Donovan
Merchandising Regional Manager
Monday - Friday
8:00am - 5:00pm
164 Hampden Road
Somers, CT 06071